A well-designed workplace can do amazing things for the employee's morale, peace of mind, and productivity. Every piece of furniture will play an important role in developing one's potential, as well as boosting productivity.
By adding great pieces of furniture, you are allowing your employees to take their productivity to a whole new level. Know that even highly proactive and motivated employees can slow down if their office does not feel right.
For a little help, listed below are the ideal elements to include into your office to have a happier, healthier, and most importantly productive workdays.    
Make Yourself Comfortable with Ergonomics
People who work for at least 6 hours a day, seated on an uncomfortable chair experience aches and pains in the neck, shoulders, and back. If you are one of these people, then maybe it is time to tell your boss that they need to change the chair you use.
Sitting for a long period is not advisable, even if you are not in the office because it brings too much stress on your spine. Your workers will never be at their best if they are uncomfortable and uneasy. The key to preventing this from happening is to make sure that your staffs have ergonomic workstations.
The fitting ergonomic layout should include an ergonomic chair that supports posture, minimizes the perils of neck problems and back pains and lessens pressure on the hips. Shop for ergonomic chairs in any online store like Black Mango.
The computer monitors should be at least 36" away from the eyes of your workers. Also, the top part of the monitor should be below or at eye-level. The mouse and keyboard should be at a level where your employees can bend their elbows at a 90 degrees angle.
Change the Entire Mood with Lighting
Good lighting is not only great for setting a mood for a date because having decent light for your office is also important. If you wish to intensify the energy in your workspace, make use of high powered Compact fluorescent lamp (CFL) bulbs in daylight colors.
These bulbs closely mimic or imitate the natural sunlight which is usually invigorating and energizing. It may be a small detail, but you can truly hope for a long-term improvement in the ambiance and environment of your office. As such, you can expect for a boosted productivity in your employees.
Color your Work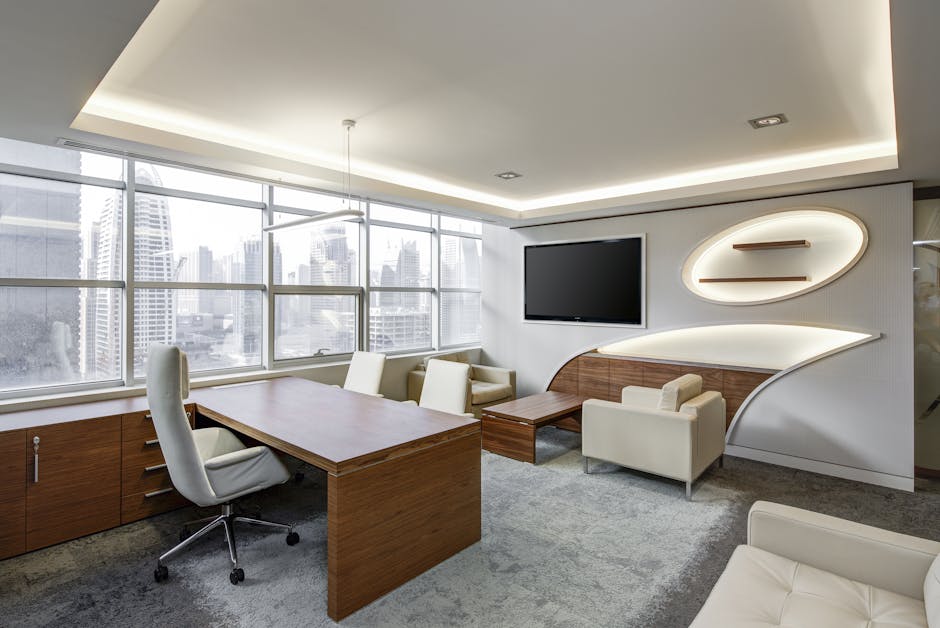 If the walls in your office are in boring and monotonous shade, then it is time for a transformation. According to a study conducted by the University of Texas, beige, white, and bland gray prompts the feeling of depression and sadness, particularly to women. On the other hand, men find orange and purple offices depressing and dull as well.
These colors do not only change your employee's mood but also deeply affect their productivity. As such, it is best to spruce up your office with a dynamic and vivid variety of energizing hues that boost productivity and stimulate creativity.     
To improve your employee's concentration and efficiency, consider painting your office's walls in calming blue or restful green. If you want passion-inspiring color, go for red. Furthermore, yellow is the color for enthusiasm and optimism. Yellow sparks innovation and is best for artists, designers, writers, and other creative professional works.
Keep It Clean
Of course, it's impractical to have a productive workplace if it is a mess. A clean environment can help boost the morale of your employees and keep them in high spirits. So, make sure to remind them to clean their desks after work. Maybe it can take at least 10 minutes of their time, but it can make a long-term difference.
A chaotic and messy workplace makes it hard for the employees to concentrate and focus on their respective tasks. As such, it is most likely that your employees will make a mistake and it can impede their productivity for the day. Therefore, make sure that your staffs are working productively by having a well-organized workplace.
Work Hard in Silence
Managing which noise or sound dwell in your workplace is crucial to having a highly productive work environment. Continual or excessive sounds can greatly disturb the mental and physical health of your employees, thus reducing their productivity.
As such, you may need to invest for sound-absorbing panels that will potentially minimize the noise in a particular room,  agree on a music playlist to still keep the spirits and vigor high, or purchase high-quality headphones. But whatever option suits your business, observing aural harmony will make the entire day as smooth as possible.
Takeaway
Not all businesses have the means to hire a person to design a highly productive office. Nevertheless, there are simple ways that you can incorporate into your office to lightly revamp it and can make your employees happier, healthier, and productive. Read and follow the ways above.