Marketing Bootcamp is an 8 part, easy to follow online course that shows you step-by-step how to build a unique and profitable brand, market more effectively and turns your online presence into a profit building machine.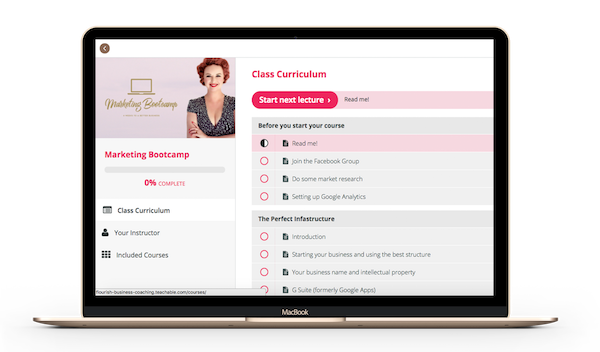 GET ON THE WAITLIST 
be notified when enrolment opens…
How Marketing Bootcamp Works
Marketing Bootcamp is presented 100% online, so you can access the material from work, home or even on your phone. It's easy to follow, clear and comes with a detailed workbook to keep you on track along the way.
We've also got a support community on Facebook, where you get 24/7 support from the team, as well as other current and former students.
Who is Marketing Bootcamp for?

Whether you are a business owner, work from home mum, startup, or student (my 12 yr old son Kai has done it!) you stand to cover everything you need to know about online marketing, so you can apply it to your business, brand or idea.
We are talking social media, email newsletters, affiliate marketing, influencer marketing, sales funnels and much more.
Get to know the modules
1. The Perfect Infrastructure
It's best to get these things right from the start. In the opening module for Marketing Bootcamp, we go over the setup options for your business. We talk about the differences between a company, sole trader, partnership and joint venture.
We also teach you how to protect your business name and idea, in particular, copyright and trademarks. We'll also walk you through setting your business up on Google Suite so you have a slick set of branded email tools & other useful items like an online calendar and documents.
2. My Unique Offering & How To Sell It
Everyone's got their own unique (or niche) offering. During this module, we help you not only figure out what that your unique offering is, but who are your unique clients, and where you can find them.
The days of worrying about how you can target the right customer will be way behind you, and you'll soon be confident to target where they are hanging out.We are also going to show you how you can survey them to determine what they are looking for, and how you can deliver it for them. This survey will form the blueprint of your business plan for the year ahead.
3. Building Sites That Sell
Does your website looks like it was built on a free site builder in 1999? Don't kid yourself and say it doesn't matter. Customers are now extremely savvy when it comes to websites, and can easily be deterred by something that presents as a hack-job.
Wix sites, gmail addresses and a million mixes of fonts. It's time to go. All it does is hard your brand and message.
I'm not saying you have to spend a fortune, but you've got to invest in the way you present online. It's a powerful first impression that can make or break a clients view of you and your product.
In this module, we will go through all the best options on the market today, including WordPress, Shopify, Squarespace, Ontraport, Leadpages.
And what is the point of a beautiful site sitting there with no traffic? We'll show you the BEST ways to drive traffic to your site, using SEO, blogging and some of the best advice we use ourselves that has increased our own web traffic by over 80% in a few short months.
Google changed it's algorithms over 500 times in 2016 alone? We'll go through the small, but big changes that affect how you turn up on the first pages of Google.
After this module you'll feel confident making a decision about the best content management system for your business, maximising your content for Google and SEO in general and how to leverage your content for more engagement.
4. Delivery Is Everything
So you've got a great product, service or idea, but there is only one of you. How can we package this up to deliver over and over online, so you can put this content to use and make money while you sleep?
This module is designed to help you decide between building your own online course (like this!), email courses, events, webinars and touches on franchising your business model down the track
We'll also hear from Zoe (the video confidence coach) about how to use video to deliver this content.
5. Making & Processing Money
So we've talked about making a shiny new site, that attracts your dream clients, found out how to target them and get them onto the site, but now it's time to sell.
In this module you'll learn the basics when it comes to setting up an online store, maximising your product listings for SEO and how to take payments both online and on the go, and turn this model into a streamlined money-making machine.
We'll also cover bank accounts, basic accounting, and payment processing through tools such as PayPal, Stripe, Square and Zippay.
6. Sales Funnels
Understand the steps involved to create a successful sales funnel for your business, to help build your list and ultimately, more sales.
We cover list building basics, Facebook Ads & Custom Audiences, Webinars, my new favourite hack for Pinterest and opt-in offers.
You'll learn my EXACT sales funnel that's got me booked back-to-back with private coaching clients.
7. Advanced Social Media Hacks
Social Media is all about engagement. Learn how to maximise your posts to increase your engagement and loyalty in your customer base.
Learn all my tried and true hacks that built me a huge following online, and created a dedicated community that buys from me, time and time again. We'll go in depth and talk about Facebook Live, the new Live Video Voting systems. Also delve deeper into why Pinterest is your next new favourite social media. Also turning Instagram followers into buyers.
8. Bring It To Life
In this final module we look at the best software and tools out there to help you bring all of these skills together, so you've got a clear way to run your business efficiently, and work smarter, not harder, to make the most of your time for maximum return in your business.
We'll talk about time management, balancing your diary, managing your diary online and syncing everything to work together.
We'll incorporate some affiliate marketing into your offering, so aside from selling your products, you have other people selling it for you too, and you can make money off ads on your site. It's all income that should be coming your way.
GET ON THE WAITLIST 
be notified when enrolment opens…
How the content is presented
Videos
Each new module comes with an intro video outlining the content and what you need to do in order to apply this to your own business.
Some module content are training videos specifically made by Jac or a special guest for this course, or footage we've collected along the way.
Text
There's some text involved in each module, but it's written in short, easy-to-understand language that makes sense.
Worksheets
Most modules come with Worksheets that you can print out and fill in, forming your own marketing strategy over the duration of the course.
And we are here with you
24/7 support in our private Facebook group with access to Jac, other students and mentors.
Weekly Facebook Live Q&As in the group to cover that week's content in detail.
Full access to the member section in this site, where you'll find FAQs, additional reading material and worksheets.
Frequently Asked Questions:
 When does the course start and finish?
You can sign up to the course anytime and you'll receive access to the course material, bonuses, worksheets and Facebook group immediately. You'll also get access to the full course content, so you can process through it at your own pace.
How long do I have access to the course material?
You get lifetime access to the course material, member area and Facebook group, including any future versions of the course.
 How much is the course this year?
Enrolment to the 2017 Marketing Bootcamp is only $497 AUD, payable either by credit card or Paypal online, or via direct deposit. Or you can sign up to this site as a Flourish Member (free!) and save yourself 50% off the course.
Do you accept payment plans?
Yes, you asked and we listened. We've brought down the cost of our course and made payment plans possible between now and the start of the course. Let us know at the time of waitlisting if you are interested in paying off the course fees and we can set up a few invoices for you. 
Register your name below to join the waitlist.